Celium - one network, countless opportunities
Celium delivers efficient and ruggedised landscape scale wireless sensor network solutions to government agencies, councils, landowners, businesses, and communities. Designed in New Zealand, Celium's versatility is transforming trapping operations in multiple countries and providing organisations with new ways to address their remote monitoring requirements.
How does it work?
Celium networks operate in the very high frequency (VHF) portion of the radio spectrum and are optimised to provide low-power and long-range communications. By combining narrowband and VHF technologies, Celium delivers remarkable performance, especially in undulating topography, through dense vegetation and adverse weather conditions, often achieving beyond line-of-sight connectivity.
Celium Nodes are equipped with sensors and operate within a tightly constrained power budget. Nodes transmit the information they gather to Celium Hubs. This is carried out over an efficient and multi-channel capable VHF radio link. Data is then backhauled from the Celium Hubs, via satellite or cellular networks, to cloud servers for processing and distribution.
Celium is ideal for connecting, monitoring, and even controlling, numerous devices in rural and remote landscapes. Integrating a range of sensors and equipment, the applications are myriad and include such things as monitoring pest animal traps, climate/agriculture instrumentation, air quality, health and safety assets and infrastructure.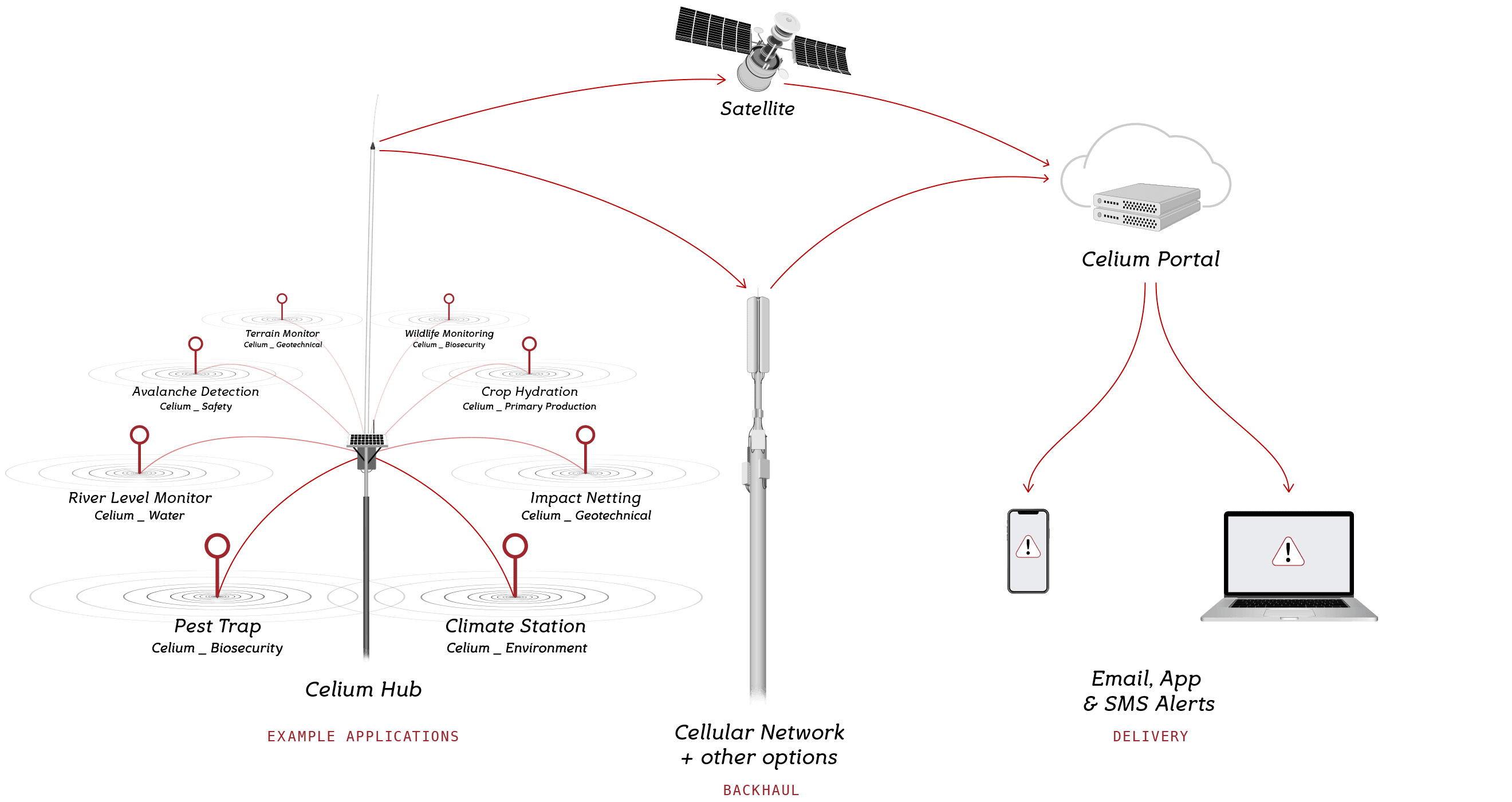 Celium network topologies
Network topology describes the arrangement of the elements of a communication network.
Celium networks can be arranged in simple star topologies, with all nodes communicating to a central hub. They can also be arranged into more complex configurations such as star-of-star and chain-of-star topologies to tackle challenging terrain. Node to node meshing and chains are not supported.
Communication channel redundancy is provided by multi-uplink capable Nodes and automatic discovery of alternative Celium uplinks.
Celium Networks can operate on multiple channels, be split into different control zones and switched to different frequency bands to address radio interference or spectrum management rules.
Proprietary protocols and hardware provide the flexibility to enable networks to be remotely reconfigured over satellite and cellular networks, and by users in the field.
The Celium Hardware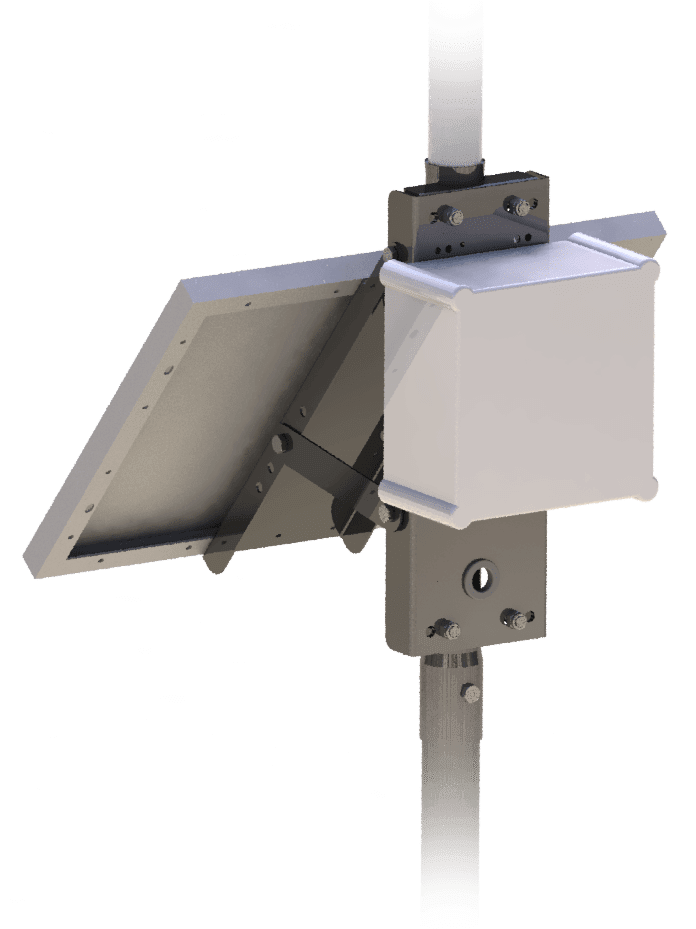 Celium Hub
Celium Hubs are responsible for monitoring and administering the Celium Nodes within their jurisdictions. Hubs backhaul acquired data to cloud servers via satellite and cellular networks or can on-forward to other Celium Hubs.
Real-time transmission of data
Iridium and Swarm satellite backhaul options
Cellular backhaul options include 2G, 3G, 4G LTE Cat 1, Cat-M1 and NB-IoT
Dual cellular and satellite backhaul configurations
Lightweight, portable, and robust designs suitable for remote and challenging conditions
Flexible mounting system to suit a wide variety of installation conditions
Easily assembled and installed by one or two people
Low-power, long-term battery operation with solar charging
Network extension via relay and small footprint repeater options
Bluetooth connectivity for administration and data download
Receive and distribute over-the-air software updates
Configuration options to reduce network traffic for lower-cost operation
Ability to distribute and relay remote commands
Customisable command store, expression language and evaluation for on-site logic control.

Celium Node
Celium Nodes are New Zealand designed wireless sensor network devices equipped with on-board sensors and designed to connect to a range of external instruments. Nodes can perform a wide variety of monitoring, alerting and actuation functions. They communicate over long distances and operate for multiple years on batteries. Equipped with a built-in keypad and other user interface options, Celium Nodes are still rugged enough to withstand demanding conditions; even surviving being swept out to sea and burial in soil and snow.
Robust low-power design for long-term, low-maintenance deployment in remote areas
Designed to accommodate multiple battery types and configurations, as well as solar charged options
Built-in keypad interface for in-field operation and configuration without the need for other devices
Capable of operating across multiple frequency bands to address radio interference and spectrum management rules
Configurable radio channels to optimise network connectivity
Multiple uplink destinations and automatic uplink discovery to provide communication resilience and operational flexibility
Configurable parameters and software can be wirelessly updated, remotely and in-field
Magnetic field and vibration based monitoring techniques allow for the monitoring of just about any type and size of trap
Integration with actuators provides remote lock/unlock and dosing capability
Provision for add-on circuitry options allows for instrumentation data exchange formats such as RS232, RS485, SDI-12, Modbus and 4—20mA current loop used in process control applications
Software & Support
Celium Cloud
All data collected by the Celium networks are transmitted to, processed and stored by the Celium Cloud solution.
Server architecture is hosted in Amazon Elastic Compute Cloud (EC2) instances linked to a readily scalable Amazon Relational Database Service. This combination provides industry proven security, performance and data durability. The comprehensive compute platform also enables ready access to numerous solutions to enhance the services available via the Celium platform.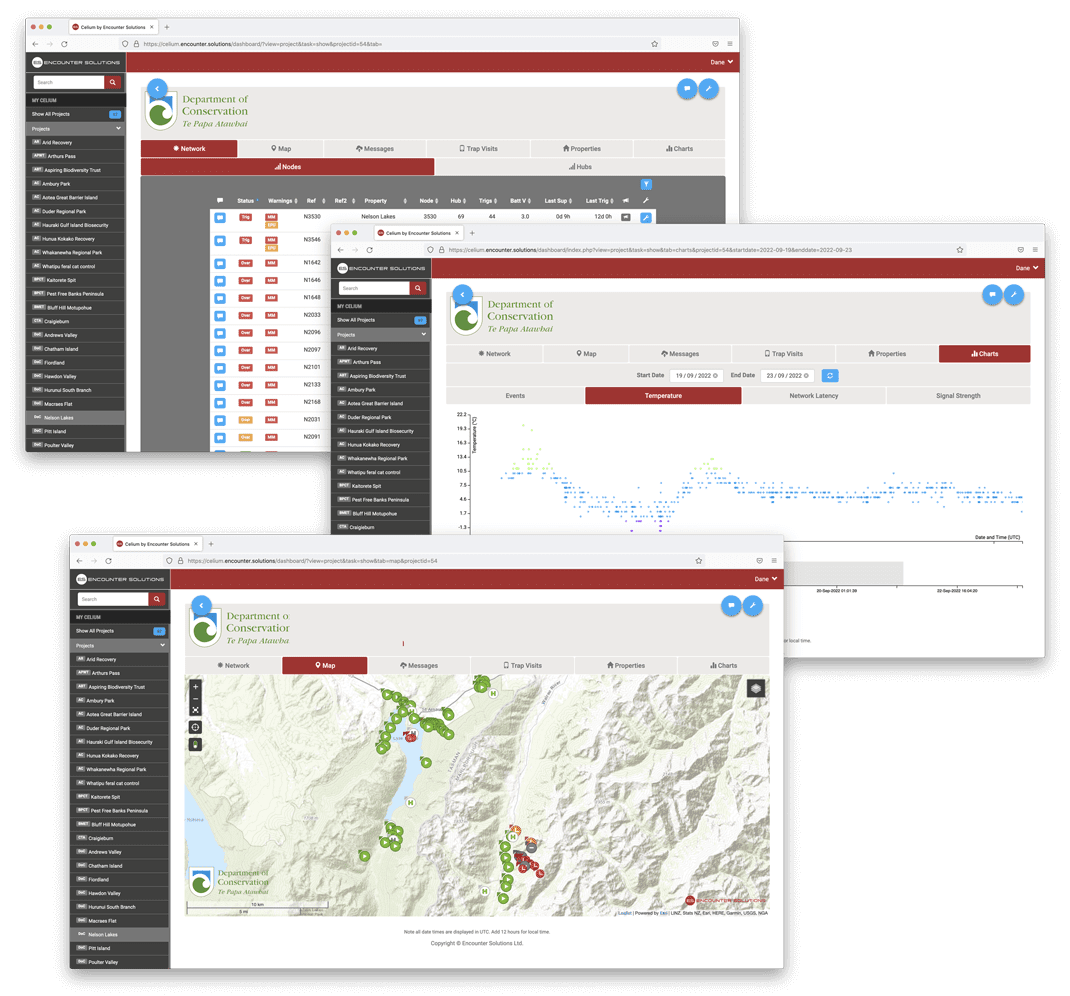 Celium Web Portal and Alerting
The Celium website portal provides device responsive access to all information transmitted from Celium networks. The portal provides mapping tools, dynamic charting, data input and export functions, as well as numerous configurable user alerts.
The Celium web portal can be configured to issue alerts by email, SMS text messaging and automated phone calling. Alerts can also be generated by making use of the Celium Application Programming Interface (API). Furthermore, the portal provides enough granularity to enable alerts to be configured differently for each Node.
Celium Web Portal functionality includes:
Detailed information and status of Celium devices and all associated transmissions;
Sortable and filterable tables;
Data input and export functions;
Location maps with map tools, GIS and radio coverage overlays, as well as multiple basemap layers;
Dynamic charts of acquired data, device information, measured and calculated parameters;
Advanced radio coverage modelling tools to optimise equipment deployment in complex terrain;
Event as well as measured or calculated parameter-based alerting; and
Configurable alerts by email, SMS text messaging and automated phone calling.
Celium API
Celium Cloud offers an Application Programming Interface (API) for third-party system integration. Push and Pull APIs are available, enabling customers to consume data, apply their own business logic and store into their own data centres. This service also enables third party mobile applications to be used with Celium data streams.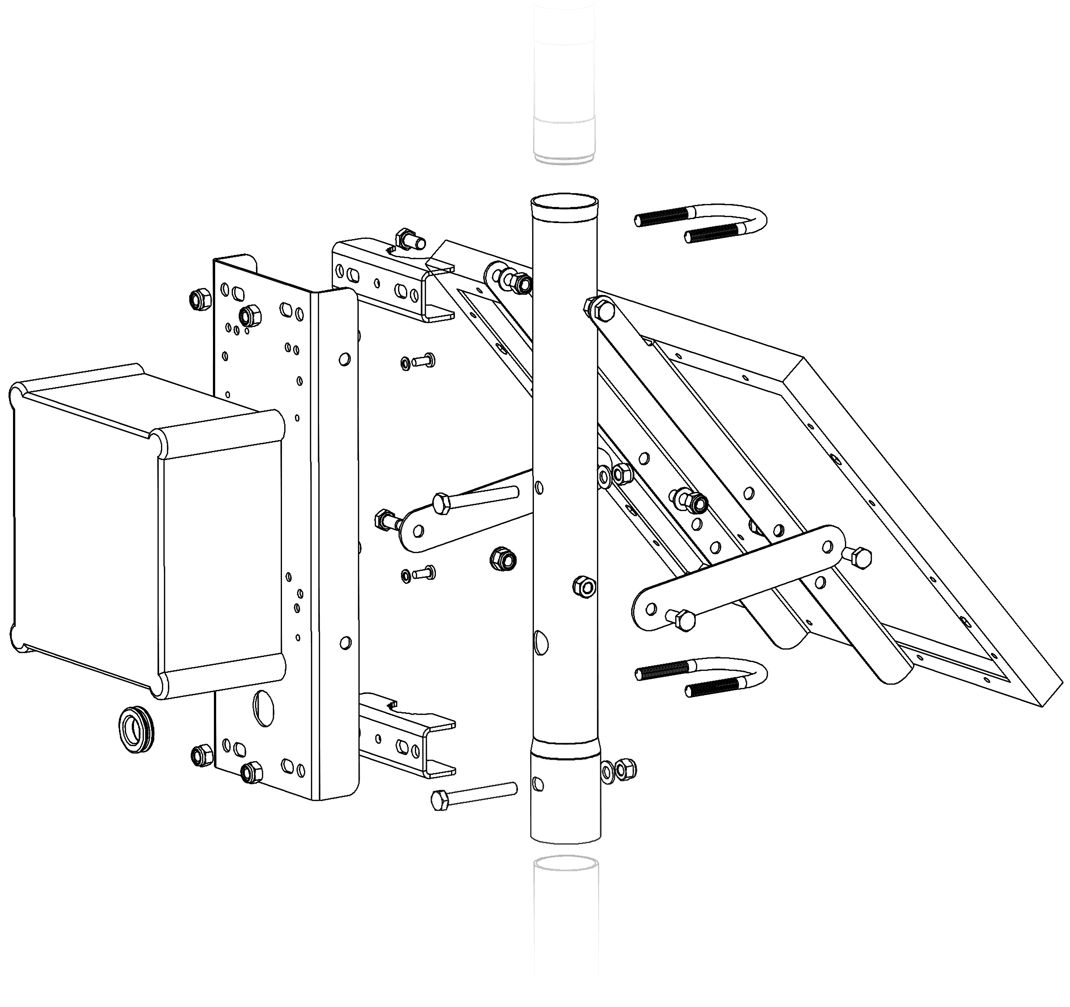 Celium Learning
Celium Learning is a web-based Learning Management System (LMS). Built in Moodle™, which powers hundreds of thousands of learning environments globally, this allows us to:
Educate and support our customers in a modern and streamlined fashion with blended learning and online courses;
Provide training 24/7 on such things as the fundamentals of radio communication systems, assembly, deployment, maintenance, and managing technical issues;
Offer collaborative learning and support tools; and
Offer Celium Learning via mobile app, enabling access to course content from mobile devices even when offline.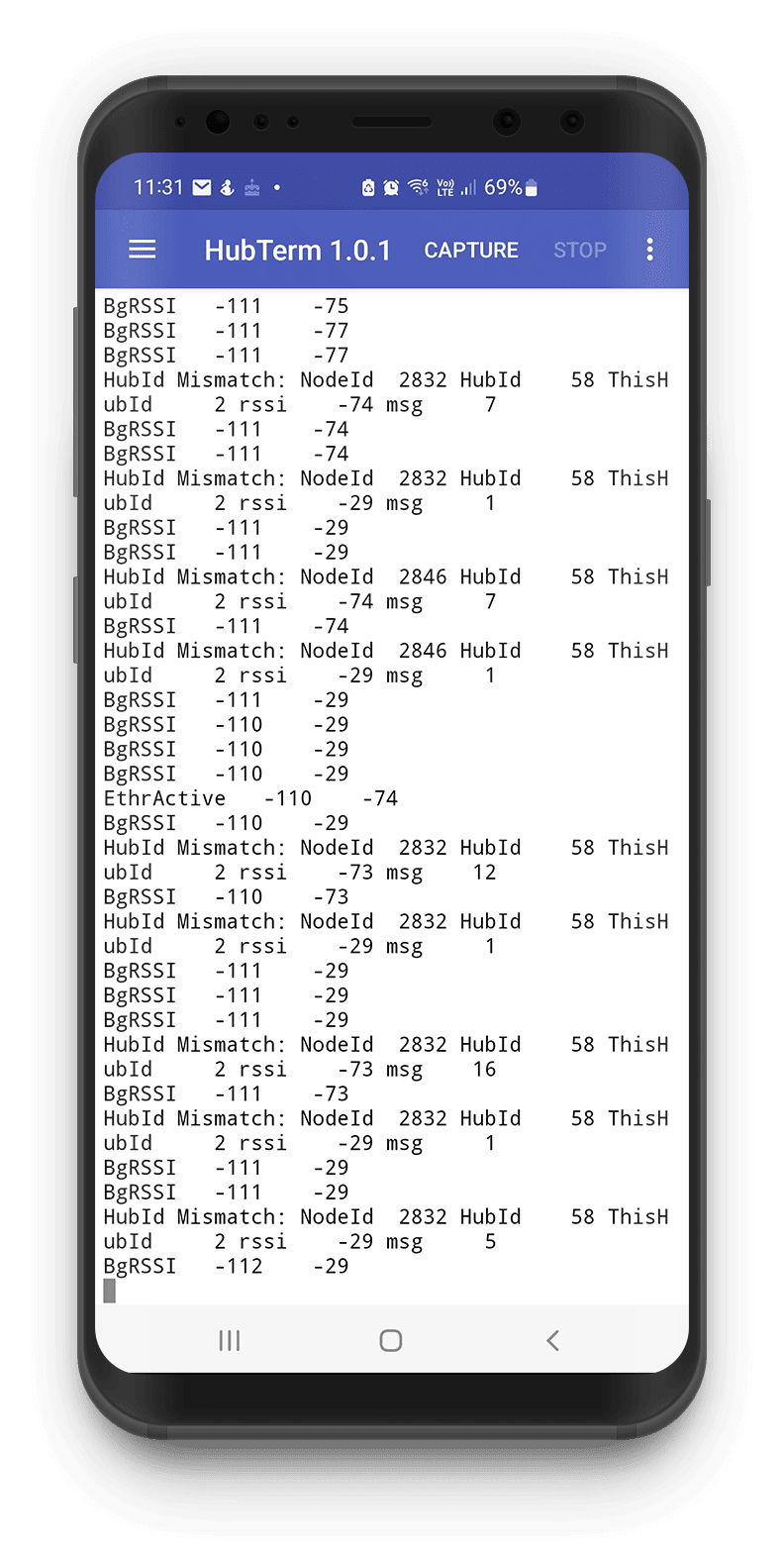 Celium Mobile
Celium offers integration with the Trap.NZ, a trap data collaboration tool used and funded by multiple NZ organisations and agencies.
The Celium API service also enables third party mobile applications to use Celium data. This means our users can, if they wish, develop their own custom-built geo-enabled cross-platform applications that incorporate Celium acquired data streams.
Celium networks can be managed in the field using HubTerm, a custom-built Android application. This app, via a Bluetooth connection, provides network administrators with a user interface to Celium Hubs, the ability to issue commands to Celium devices via VHF link, as well as the ability to deploy firmware updates.